Introducing Our Resident Ambassador Program!
We are delighted to introduce the Resident Ambassador Program at Springfield Crossing, where our residents can play a crucial role in establishing relationships among other residents. Our resident ambassadors make newcomers' transition into the community more pleasant, act as a point of contact for any inquiries, and speak out for the interests of other residents.
What it means to be a senior living resident ambassador:
Reside in the heart of our vibrant community: Resident Ambassadors have the honor of dwelling in our excellent personal care home, enjoying all the amenities and a close-knit environment.
Lead the way in fostering a welcoming environment: Our ambassadors are in the forefront of fostering a friendly, welcoming atmosphere where new residents can feel at home. Their encouraging words and smiles will have a long-lasting effect on their transition.
Build better relationships: By getting to know their peers, residents can develop deep connections, exchange backgrounds, and feel a sense of belonging.
Being an advocate for other residents: As an advocate, resident ambassadors ensure that residents feel their needs and concerns are understood and taken into consideration. Their opinions and recommendations will help us keep improving our senior living community.
Our Resident Ambassador Program is an excellent method to improve everyone in our community's overall living experience. It's an opportunity for you to grow individually, establish enduring bonds, and have a beneficial influence on all your neighbors.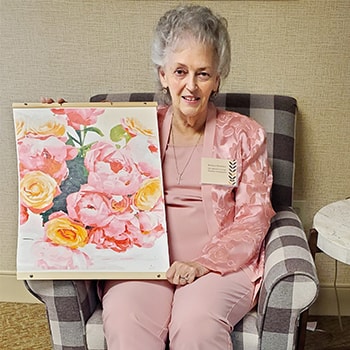 Barbara Chreiman
Barbara Chreiman was raised with two brothers on a Navy base in South Philadelphia, PA where her father who served in the Navy was stationed. Barbara lived on a Navy base with her two brothers, Mother and Father until she was 11-years old. Barbara moved to Folsom, PA in 1957 with her parents. Barbara graduated from Ridley High School where she participated in Majorette Dance, Ballet and Acrobats.
Barbara Married Jerry Chreiman on May 1, 1971. Barbara and Jerry have two sons Jerry and Robert.
Barbara worked at Boeing as a secretary until she gave birth to their first child Jerry. After giving birth to their second child Barbara went back to work for Freight Forwarding as a Hazardous Documentation Specialist.
Barbara loved raising her two sons with her husband Jerry and values time spent with family, Barbara shares Jerry was musician and played the Keyboard in his band for many years. Barbara enjoyed going to Jerry's shows and being his biggest cheerleader.
Barbara loved spending time going to shows, spending time with her reused dogs, all the family dogs were rescued dogs.
Barbara moved to Folcroft in 1975 where she raised her two sons with Jerry.
Barbara moved into Springfield Crossing Enhanced Senior Living on November 10, 2022, with her husband Jerry.
Barbara shares she explored many facilities when looking for a senior living community to move in for care needs for her husband Jerry. Barbara shared "during my tour I found Springfield Crossings to be the friendliest" "that's why I chose Springfield Crossings". Since moving into Springfields Crossing Barbara shares "I've made a lot of friends and connections with both resident's and staff".
Barbara shares that she like that she can still be independent, run arrands in the community while her husband Jerry care needs are met on a day-to-day basis by wonderful staff.
Barbara also likes that she can still engage herself in personal activities and hobbies of her interest in her room, such as (painting by number, jewel art kits and doing her own laundry) as she chooses to although laundry services are offered at Springfield Crossings.
Barbara enjoys participating in programs offered in our Life Enrichment program at Springfield Crossings. Such as exercise programs, Live Entertainment where she enjoys dancing and socializing, playing cards with resident's & staff, monthly corn hole tournaments and BINGO. Barbara intends to explore our Virtual Reality Program through Rendever and looks forward to the therapeutic benefits.
Barbara spends time painting on canvas by number in her spare time as an enjoyable hobby. Barbara shares her beautiful paintings and jewel art with the staff. Barbara states that she enjoys painting by number and jewel art because it helps reduce anxiety and release stress.
Barbara amazing canvas paintings by numbers and jewel art has inspired both staff and residents her at Springfield Crossings.
Barbara is a Resident Ambassador here at Springfield Crossings. She enjoys making meaningful connections with peers, making new friends and new residents feel comfortable and welcomed.